Photo Gallery.
Here you will find pictures of my current Fiesta (my Mk3) and also of the other two cars that I have owned
-A 1984 ford fiesta Mk2 1.1 and my first car a 1985 1.2 Vauxhall nova.
To view pictures larger please click on them.
My current fiesta - Project XRSi
Feb. '01
Picture taken With Louise' Fiesta Kingfisher.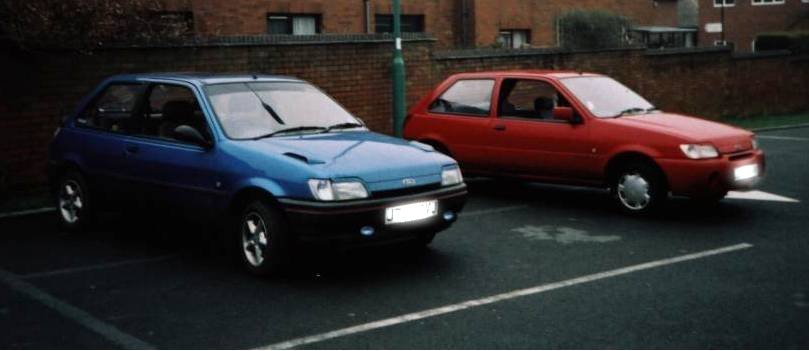 My fiesta is the red one on the right of the photo. Both cars in the photo have changed since this photo was taken!
The only modifications that had been performed on the car at this point was clear front indicators and the Si front bumper. The suspension had also been swapped for Xr2i spec suspension.
April '01
The car has changed quite a bit in two months. The car now has a K&N bolt on filter and also a 4" stainless steel back box, along with the fox 3 15" alloy wheels with 195/45 tyres.
May '01
More changes! The cars is now fitted with an Si rear bumper and also frst rear spoilers. Also the front bumper has been treated to the long awaited spotlamps.
Photos taken with Louise' Fiesta Kingfisher. Car ready for FITP.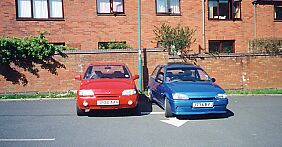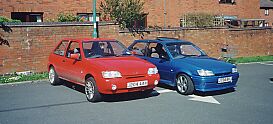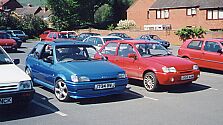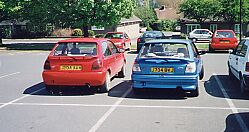 October '01
The car has just had it's full respray and a few more modifications performed to the exterior of the car.